For OTT VOD providers, choosing how you will monetize your content and service is a key decision. Will you charge a monthly or annual subscription? Will you earn revenue from serving advertisements? Do you go the 'hybrid' route and offer ad supported and subscription based packages? Or even offer transactions for events or pay per view content. What happens when you expand globally? Let's take a look at the monetization trends happening right now in the VOD marketplace.
The ongoing presence of subscription fees
Consensus suggests SVOD will grow at approximately 11% for the foreseeable future, and with its higher revenue starting point, it will continue to outpace revenue for AVOD and TVOD providers. Indeed, three of the five 'FAANGs' (Facebook, Apple, Amazon, Netflix and Google) chose SVOD as their revenue model of choice.
Why does the subscription model perpetuate? To make AVOD a viable alternative to SVOD requires substantial scale. Applying some basic math to top-line statistics of Netflix and YouTube:
Netflix: 200 million subscribers generate average revenue per user of more than $10 monthly, amounting to $25B revenue in 2020
YouTube: 2 billion users per month contributed approximately $20B in advertising revenue to Google/Alphabet over the same time period - That creates an equivalent of $0.83 in advertising revenue per user, in this case the proxy to APRU
This is a classic equation of value vs scale - Youtube has 10 times the number of users of Netflix, however Netflix secures more revenue in subscriptions vs YouTube's advertising revenue.
Ad budget transition to Connected TV
The transition away from linear TV advertising is fuelling a disproportionate rise towards Connected TV (CTV). CTV advertising represents pre-roll or in-stream advertisements, specifically for viewing on a connected TV. This is different from the umbrella of OTT advertising which may also be viewed on a phone, tablet or computer for example. As CTV is inherently big-screen, it is likely to be seen by more than one individual, increasing reach and overall advertising efficiency.
CTV advertising is extremely effective at targeting an audience and delivering a relevant message, enhancing RoI by incurring cost only when the ad has been consumed. Fusing the forensics and quantifiability of digital with the richness of video, CTV advertising presents a major boost on traditional linear TV advertising.
From the perspective of an advertiser, ad effectiveness can be measured on the fly, allowing different creative executions to be tried, tested with the most effective prioritized. It also enables audience retargeting, so an ad consumed on the TV may then be served again on a different device, in a different medium, at a different time.
Scaling footprint globally
We have seen several US-based and international media companies publicly signal their intentions for both SVOD and AVOD services to reach audiences globally. DAZN, Apple+, Netflix, Disney+, Pluto TV, Tubi TV, Paramount+, and many more are reorganizing and investing heavily in deploying internationally.
As the world's most popular SVOD streaming service, Netflix generated 54% of total revenues outside North America through 2020. They went on to identify that the largest regions contributing to growth were APAC and EMEA with more than 60% and 40% increase in revenue year over year respectively
Similarly Amazon Prime Video in their Q3 2020 quarterly statement confirmed not just their commitment to Amazon Studios original movies, but a dedicated focus on local language programing, including 'Putham Pudhu Kaalai' in India, 'Peep Time' and 'Documental S8' in Japan, 'Pan y Circo' in Mexico, and 'All or Nothing: Tottenham Hotspur' in the UK. They also confirmed live international rugby games will be exclusively available to UK Prime customers including the Six Nations.
With ambitious globalization comes several challenges. Not just requirements in language and localized content but perhaps most importantly, selecting and negotiating distribution with a growing multitude of CTV app stores, TV devices, and pay TV distributors options. For AVOD services there is also the need to evolve internet-type CTV advertising ecosystems on a country-by-country basis which are both targeted and real-time data-driven vs the more traditional broadcast TV models.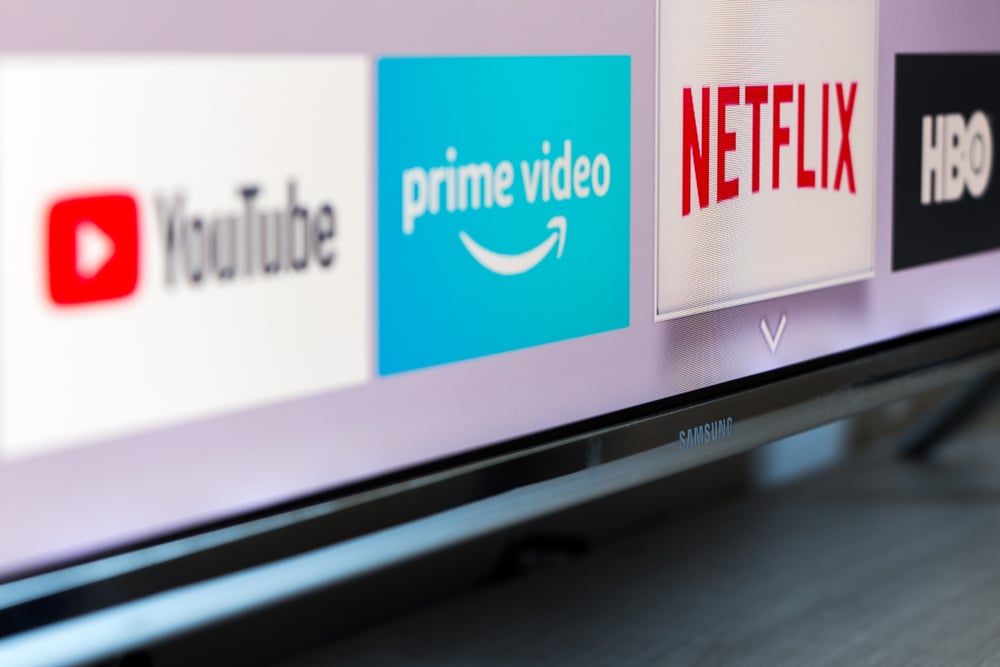 AVOD Accelerates
TV was largely built on the currency of advertising. As SVOD matures, we are seeing the introduction of ad supported tiers to broadly increase reach. And while SVOD revenues exceed those of AVOD, in terms of time watched, AVOD continues to accelerate. According to Nielson, AVOD is growing faster than SVOD in the US where more than 100 million people watch YouTube and YouTube TV on their TV screens each month.
In AVOD's favor are targeting efficiency and performance data for advertisers. Data drives decisions. The ability to pinpoint a target audience combined with the assurance of ad serving and consumption provides a prospective advertiser with security in their investment. This is something linear programming can only offer at best by proxy.
Trends such as SVOD fatigue, suggest reduced barriers to content access will help early adoption and market foothold. The business opportunity is hardly modest, YouTube, which accounted for 11% of Google's advertising revenue, reported $20B advertising revenue alone in 2020 - More for its subscription services.
While many contenders might gasp at such performance, the AVOD model offers a logical opportunity for all OTT providers to establish a foothold for their businesses. Viewership is growing across the board - In the US services such as Pluto, Tubi, and Vudu have rapidly gained active users and so the advertising dollars have followed.
Hybrid-tiered services
There are three basic models that OTT providers use to commercialize services and justify higher fees. However, constantly evolving and hybrid models have emerged which bridge or blend the basic AVOD / SVOD / TVOD pillars.
There are four points of service differentiation representing the main influencing factors for price:
The move from a pure ad-supported model, through a hybrid ad-subscription and on to an ad-free, pure subscription model
The delivery of additional functionality, usually in the form of higher resolutions SD/HD/uHD, more simultaneous streams, downloadable content or CloudDVR
The provision of additional content - such as additional channels/networks, early-release, or immediate access to a full set of episodes for binge watching
In some cases additional and unrelated services to the core OTT video offering, such as music, reading, or audiobooks.
Given the different approaches taken by market leaders, their chosen pricing model lends itself to their core strengths. In the case of Netflix, it's the breadth and freshness of content. For Amazon the augmentative strengths and capabilities, and for China-based iQiyi the scale of content relevant to a pan-Asian audience.
The primary incentive for any subscriber is access to a relevant and desirable content catalog. These consumers justify costs by a better viewing experience, be it ad-free viewing, higher resolution, content mobility etc. or the perceived value of the total offering.
Conversely the challenge facing OTT providers is maintaining profitability and loyalty, while increasing subscriber base and ARPU. The successful find the balance between scale and revenue. For both subscribers and providers however the service price ceiling quickly comes back into focus as total subscription costs stack close to the original premiums of the PayTV providers that motivated people to cord-cut in the first-place.
Launch straight to PVOD and TVOD
TVOD in the form of pay-per-view has long played a role in live sporting events, however in 2020 we saw it start to make an impact in the realm of movies.
Universal's 'Trolls World Tour' was the first film from a major studio to skip a planned theatrical release since the forced closure of cinemas in the wake of Coronavirus. The day before its scheduled launch, Universal made the movie available for home rental and in doing so, it became one of the most successful PVOD releases of recent times. After three weeks on-demand, "Trolls World Tour" earned more than $100m in rental fees, doing more for Universal than the original Trolls movie achieved over five months in theaters. It was a trend set to continue.
Two months later, after a postponed theatrical release, Disney launched it's live-action remake of the 1998 animated movie, Mulan on the Disney+ streaming service. For an early access fee, subscribers could watch as many times as they wanted. In the opening weekend the movie became No.1 on the streaming site, reportedly generating $35.5m revenue for Disney. While this revenue may not qualify the movie as a run-away success in traditional terms, a vertically integrated production, launch and distribution changes traditional movie economics substantially - not just because every dollar earned was a dollar for Disney, but because Disney reportedly also saw a 68% increase in subscriptions to its service, driven by this movie launch.
As the lingering tail of Coronavirus continues to impact theatre venues around the world, putting the pressure on the $40B+ global box office for films, it's reasonable to assume more major releases will launch direct to TVOD/PVOD.
Read more about OTT VOD services in our complete guide.