Working at ActiveVideo requires us all to be fully immersed in the world of OTT content. We obsess day in, day out about the very best ways to get the wealth of OTT video that's out there to consumers in the most efficient way possible. It's no longer about the 4 or 5 established apps. Yes, Netflix, Prime Video and Hulu are 'table stakes' in our OTT collections, but the mainstream market is expanding with HBO Max and Peacock entering the fray and increasingly we want to pick and choose content from the edges or niches. That could be services like Crackle or RedBullTV, or regional programming, comedy 24/7, wall to wall nature shows, or classic movies from a bygone era - the choices are becoming endless!
With that in mind, we put the collective ActiveVideo hive mind to work, and asked our colleagues around the world what excites them about OTT right now, how their viewing habits are changing and what their niche OTT service of choice might be… Here's what they told us: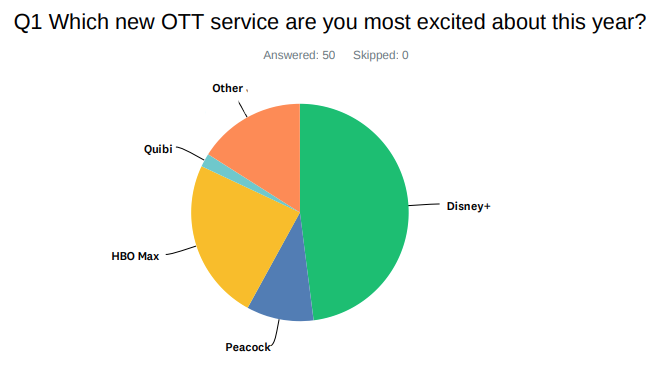 Disney+ has arguably dominated the OTT headlines this year - so it's probably no surprise that almost half of our respondents are most excited about this new introduction. With shiny new mega-bucks productions like the Mandalorian (haven't we all 'oohed' and 'aahed' over baby yoda!) or back to back family favorites ("to infinity and beyond"!!), Disney+ has beaten expectations and our attention. Conversely, the much hyped launch of Quibi garnered less enthusiasm from the ActiveVideo team - perhaps its lack of support for our big screen TVs turned us off? It's timing was perhaps unlucky. Cellphone-based, short form content ideal for those of us who commute daily and need quick bites of entertainment, launched just when we all stopped commuting…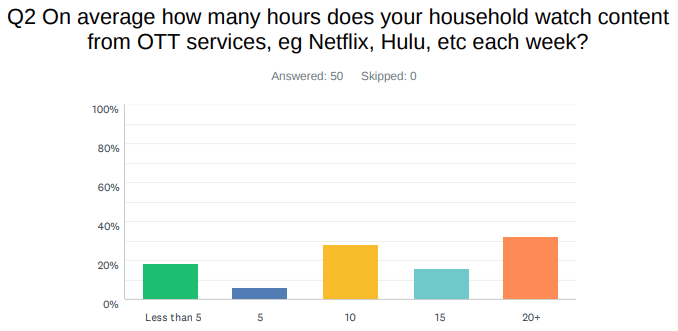 Not only do we like signing up to the latest and greatest OTT service, we (and our extended households) put them to work! A third of us watch more than 20 hours of OTT content on a weekly basis! And before you ask, yes this has increased in recent months…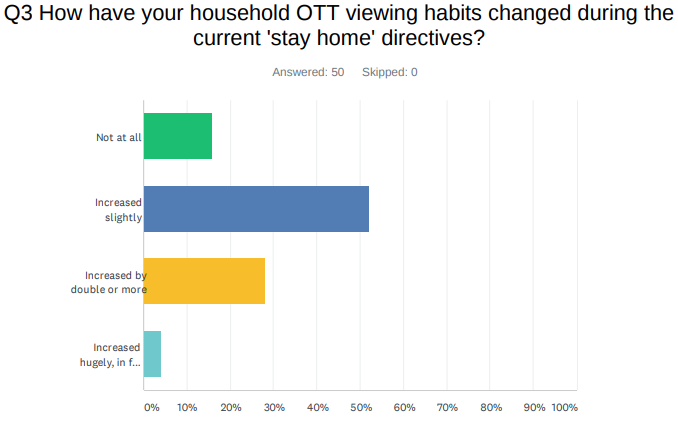 For just over a quarter of our respondents, OTT viewing in their household has at least doubled during the pandemic 'stay home' directive.
The final question of our survey (we didn't want to take too much of employees' time away from serving our customers / watching the entire Star Wars saga) focused on their own creativity. If we gave a free rein to our ActiveVideo team to create their own OTT service, which genre would they opt for?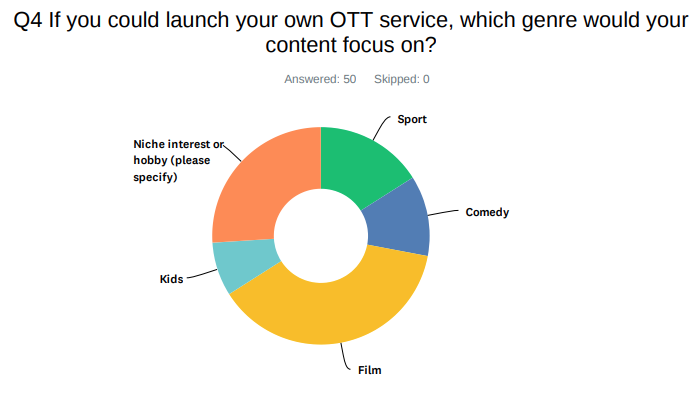 We are clearly a bunch of film lovers! A decent number (16%) would focus on sport. Some of us love to laugh, and others to keep our kids entertained! But over a quarter would chose their own niche interest to based their OOT app on - here's a summary:
Personal development [always striving to improve, this person will go far!]
Animation
Drama all the time; also 'series' and more specific - 'crime series'
Even more specific... 80s TV Shows [show of hands for the A-Team, Miami Vice or Cheers?]
A couple of us opted for a music centric service, particular concerts
Education, in particular STEM - and delivered in an entertaining way. A big nod to the huge changes in our schooling during the pandemic
Travel, cooking, nature… [take us away to all those places we long to visit, but can't right now!]
And finally, remastered classic films..
Our own research is a great indicator that the number of OTT applications is exploding - apps are springing up to provide us with direct access to the content we want. It's certainly clear that "while the battle heats up among the big SVoDs, action is developing around the edges". It's why our world at ActiveVideo is an exciting world to exist in right now!